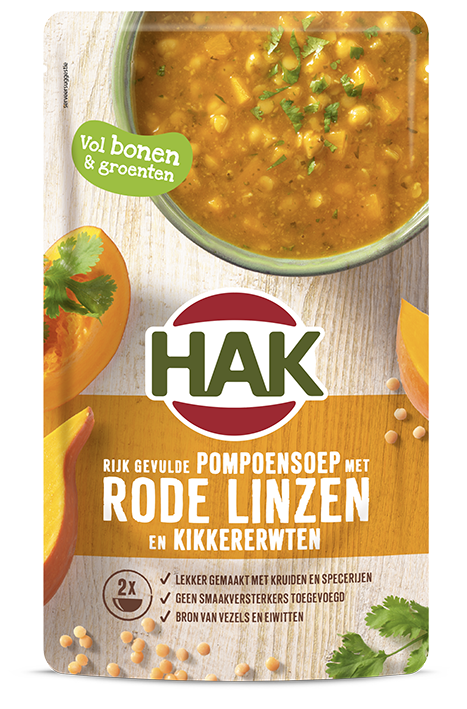 Pumpkin soup with red lentils and chickpeas
HAK Pumpkin soup with red lentils and chickpeas. Ready to use. For 2 bowls of soup. A delicious and nutritious soup, jammed with beans and vegetables. Great as lunch or quick and easy dinner. Because we think it is important to provide a pure product, this soup is flavored with only herbs and spices, and a pinch of salt. This brings the rich and pure taste.
Flavored with herbs and spices
No flavor enhancer added
No sugar added
Source of fibers and proteins
One pouch contains 570ml, for 2 bowls of soup.
Ingredients: Vegetables and pulses in an alternating ratio 51% (pumpkin 25%, onion, chickpeas 8%, lentils 8%, leeks), water, tomato paste, herbs and spices (ginger, coriander, cumin, cinnamon, celery, pepper, white pepper, cayenne pepper, bay leaf, turmeric), olive oil, salt, garlic, corn starch, lemon juice concentrate, potassium carbonate, sunflower oil.
This product contains allergens: celery and pulses.

*The sugars are naturally present.

Nutritional value per 100g
Energy

218 kJ/52 kcal

Fat

1,9g

of which saturated fatty acids

0,3g

Carbohydrates

5,7g

of which sugars

1,5g*

Dietary fibers

1,9g

Protein

2,1g

Salt

0,49g